Wake up at dawn to observe the migration of birds
8 October 2022 @ 08:00

-

10:00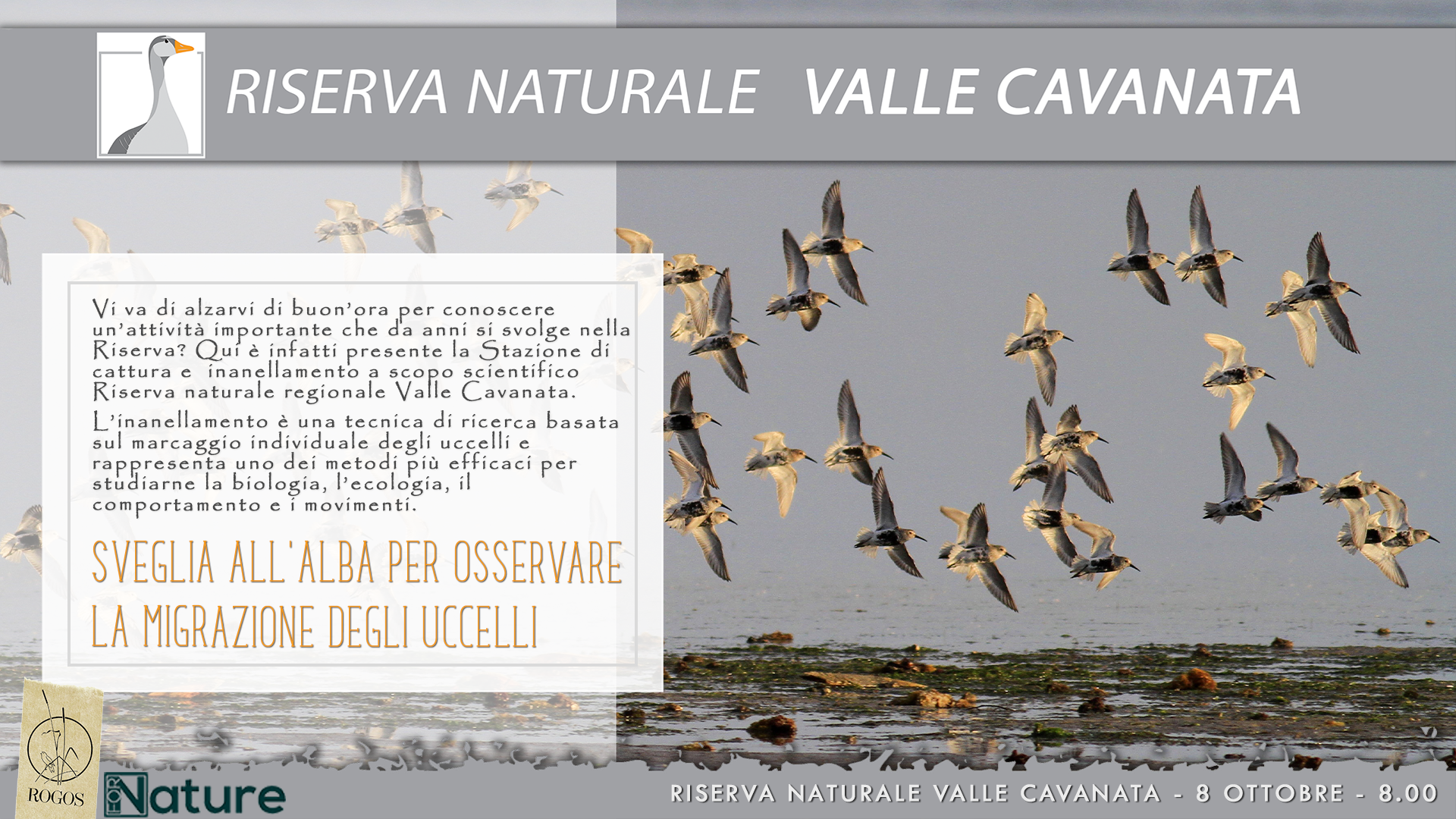 Saturday 8 October we invite you to get up early to learn about an important activity that has been taking place in the Reserve for years. Here, in fact, there is the Station for catching and ringing for scientific purposes. Valle Cavanata Regional Nature Reserve.
Ringing is a research technique based on the individual marking of birds and represents one of the most effective methods for studying the biology, ecology, behavior, movements, productivity of populations and demographics.
A network of monitoring stations, coordinated by the National Centers, is the basis for the management of ringing activities in Europe, where EURING (the European body for ringing) guarantees efficient collaboration.
The Station operates within the MonITRing Project, coordinated by ISPRA. The activities are carried out by means of regular capture sessions throughout the year by highly specialized personnel. This project, in addition to increasing the knowledge of avifauna, allows us to obtain important information on the role of the Valle Cavanata nature reserve as a treasure trove of biodiversity.
In the period 2009-2021 about 8,800 individuals belonging to 70 different species were captured at the Station.
To get to know this important reality better, Saturday 8 October we organize a morning in the company of the ringers, who will accompany us to see the plant used to carry out their activity, will illustrate the fundamentals of ringing for scientific purposes and will also share with us useful advice on how to carry out birdwatching activities with satisfaction and with respect for the observed species.
METHOD OF PARTICIPATION
The event is organized with a limited number. To join, send an email to info.educazionecavanata@gmail.com with your name and a telephone number. The reservation is effective upon receipt of the confirmation by the staff of the Valle Cavanata Nature Reserve. Participation in the event is free.
ORGANIZATIONAL NOTES
Date: October 8
Starting time: 8.00
Duration: 2 hours
Meeting place: will be communicated to subscribers via email
Difficulty: suitable for everyone
Recommended equipment: comfortable clothing, we recommend that you bring binoculars
Participation fee: free thanks to the contribution of the Municipality of Grado and the Friuli Venezia Giulia Region
Booking: required at info.educazionecavanata@gmail.com